You've started a business—That's awesome, congrats! Now, what's next?
As a business owner, there are so many things to get done to grow your business. One of your top priorities should be establishing your presence online—making you visible to potential clients and giving your company a trusting, friendly face on the internet. Or, maybe you have an established business, but you feel that it could use a boost to attract new customers.
Social media for business is a world unto itself and requires specific knowledge to navigate. To put you online and in contact with your customers, we've come up with a really basic "cheat sheet" to get you up and running with social media.
Here is our super-simple guide to getting started with social media for your business.
Getting Your Business Online
Sharing your business on social media can seem like a daunting task. With so many articles, tips, and resources already online, sometimes it's hard to pin down just the basic fundamentals. We promise you that when you understand how each platform works, you'll quickly get the hang of it and understand the advantages of sharing photos, articles related to your business, and getting in touch with your customers.
It's important to remember that you don't need every social media account out there to be on the internet. Choose the ones that are most appropriate for your business and start from there.
We have narrowed down the top three social media platforms for businesses and here are some tips on the best ways to use them to attract customers.
But, first things first… A website
You need a website and one that's mobile-friendly since so many people surf the internet from their phones. It doesn't need to be complicated or over the top expensive. Just begin with necessary information about your products and services, your contact information, and content that doesn't need to be continuously updated. This will establish an online presence where customers can easily find accurate information about your business. Choose an easy, clean look for your web page. Use font styles and classic color combinations that are pleasing to the eye and remember that less is more generally speaking.
Your business also needs a web address or domain name, especially after getting some feedback. You'll also want to make sure you set it up so that your website directs all your incoming emails to your email account, making it super low maintenance.
Google Maps
Put yourself on the map. Literally. Tag your business location, upload a couple of attractive pictures, driving directions, and provide contact information and business hours if you've got them. People searching the internet want their experience to be easy. They want a simple website to navigate and one they'll find at or near the top of their Google search results. If they cannot find you on the first few pages of Google, they won't bother digging deeper.
Goal Setting
Have specific goals in mind. Are you trying to find new customers? Stay in touch with current clients? Share industry information or insights with the hope of teaching or creating change?
Defining your goals and objectives will help you determine what you need to be posting online, how you interact with people who visit your website, and where to focus effort.
Brand and Personality
We suggest coming up with a few words or phrases to define your business presence online. This will help determine what you share and the way you present yourself. Are you serious or whimsical? Are you conversational or formal? A business selling medical devices will have a much different tone from a company selling personalized pet accessories. Deciding how you want to be perceived online will help you better engage with your target audience.
Media
There's a good chance that anything you post online about your company will be saved on someone's phone or computer, either by downloads or screenshots. With that in mind, whatever you put on your business page must be prepared as quality content. Pictures, videos, and written words have to be well-thought-out, so they'll have maximum impact. Put yourself in the client's shoes and create amazing content; you think your customers are likely to save and share.
The Best Social Media Apps for Your New Business
Facebook
If creating and maintaining your website seems out of your immediate reach, than Facebook is your next best bet. Facebook is great for sharing updates about your company, news, and articles related to your industry, and even advertising what you have to offer. You can enter all your contact information and additional details about your business on your Facebook business page, like a background story and appropriate photos. Consistently posting new content on your Facebook page provides one of the best platforms to create your community, encourage discussion, and interact with your target audience.
Tip: Share industry information and related news articles, so people to get people talking about your products and services.
Instagram
Instagram is excellent for highlighting your products and making anything look pretty with the proper filter. Suppose your business is more of a service than a product like a dog walking or yoga instruction, post photos of satisfied customers, and use the "Stories" feature to highlight your services' fantastic quality. Stories shared on Instagram are often also posted directly to your Facebook account, making it very easy to share across both apps.
Tip: Since Instagram is more of a visual social media platform, it's important to consider what pictures can best tell your story when posting. Also, we recommend no more than ten hashtags per post for Instagram and put them in the comment section instead of the caption.
Twitter
Twitter is great for starting conversations about brands and current trends. With only 280 characters in a tweet, you can build relationships with similar brands, online influencers, and corporations by following them, retweeting what they have to say, and contributing to their conversations.
Tip: While Twitter is the easiest place to launch a conversation, it's also the quickest way to get into trouble. Avoid tweets that are controversial or offensive. Keep it enjoyable!
One last thing… Be consistent!
While it may not be your favorite thing to do, you have to understand that all of this "Internet stuff" is crucial to success in today's business world, where so much commerce is done online. With that in mind, you'll want to establish a schedule to make sure you're posting new content regularly, at least once a week. It's also important to consistently check your Google search results, your website, and social media accounts to make sure they're performing for you. Consistency results in greater online exposure and higher engagement with customers, which is your principal goal on social media. It means people enjoy what you're putting out there, and so they're more likely to trust you, communicate with you directly, and ultimately buy whatever you're selling.
Good luck, and enjoy the process. Don't ever be discouraged over low "likes" or engagement. Just get your name out there and be consistent! You'll do great!
GOT TO MEDIA makes sure your business has a robust online presence. We realize the importance of social media marketing. We offer a complete range of digital marketing services to help you achieve your targets. To get in touch with us, Click Here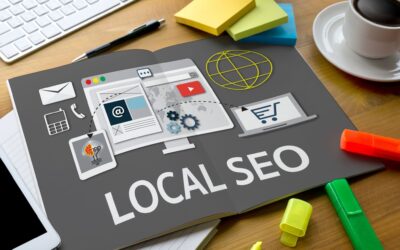 We all know that Search Engine Optimization is a critical factor in boosting a business's online ranking. Organic and local search engine optimization should be at the heart of any digital marketing strategy. That is probably...
read more